I have had the privileged of teaching a great number of really talented and smart students, this semester has been no exception. The group of students in my class is rivaled by none. They are energetic, get alone well with each other are collaborative and will make great contributions to the field. (You'll have to go to the end to read about Bigfoot).
Twice a year we have our 3-day Corporate Advisory Council (CAC) meeting where we bring together the students and professionals in the field (mostly alumni) who then evaluate the students' ability and eventually hire the students.
The first day of the event, the corporate folks talk about what they are doing in the field and the types of projects they are creating. We had folks from Strayer University, Lynda.com, Clarabridge, Bristol-Myers Squibb (BMS), Zerion Software, Think ID8 and our own Brian Seely present on a variety of topics from scenario-based learning to instructional design to augmented reality. A few of the photos are below as well as links to the presentations.
You can see Art's presentation here.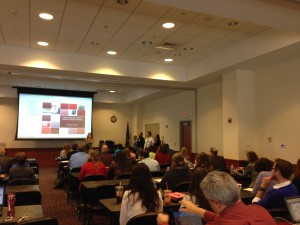 Then, unfortunately, I had to leave and miss some amazing presentations by Anthony Ruth, Brian Seely and Mark Burke. (This was because I had to sit in the most unproductive meeting I have ever attended in my life for two hours but that's a different post.)
You can see all the presentations by clicking on this link.
On Thursday students presented their solutions to a fictitious proposal for an energy company called Odyssey Energy. As part of the RFP process, we got to travel to a real nuclear powerplant and learn about how they train employees. It was a great fieldtrip and we learned about SCRAMs, valve maintenance and turbines.
Touring the nuclear training facility was a great experience for the students to see how instruction in a critical industry is done in the field.
Here are links to the individual student presentations, each team made up a company name for the semester:
LGBC Associates
IDea Interactive Solutions
VisionTech
The presentations were wonderful, everyone had a great time and learned a great deal about the field and themselves. On Friday, the students interviewed for positions. This year we have 14 graduating students and 12 different companies on campus to hire the students, many of the companies looking to hire 2 or more people.
After the CAC event, the next class is a debrief of the student experiences. Typically we have those debriefs in class and I bring in Pizza. But this year, the students suggested we display the presentations and prototypes on a large screen in a local movie theater turned into a restaurant called "The Capital".
We had a blast showing projects in a more comfortable and relaxed atmosphere and debriefing from the "trauma" of presenting to corporate folks who want to ask some thought provoking and interesting questions.
Here is each team informally giving a "director's view" of their presentations.
Then, two students, Lara and Mike unveiled the bigfoot….a great gift that will forever be in my office. We saw it in the Skymall catalog that we were viewing when we flew to the Learning Solutions conference (see Great Time at #LSCON 2014.)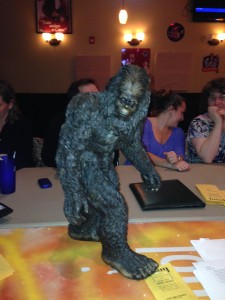 I immediately fell in love with the bigfoot!!!
Taking Bigfoot home…