Over the years of providing instructional experiences to graduate students, middle school students, high school students and community college students as well as learning and development professionals, I have learned that one of most powerful learning experiences is when it is hands-on and when the learning is reinforced over time.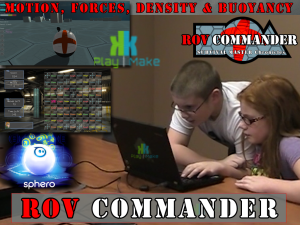 This powerful combination leads to learning and, more importantly, insights. I have literally seen kids learning as they work through content by building and playing. I've also seen students and adults play a video game and, after a short period of time, learn from that experience.
As we all know, learning is not exclusive to one time or place or even event. We learn over time, we experience insights in the shower, mowing the lawn and in the middle of the night. I have decided to create a startup venture with a colleague of mine, Jim Kiggens to bring these experiences to students.
Fortunately, I was able to be a participant on a National Science Foundation grant which got me started in this direction and with six years of experience creating a play/make curriculum. We engaged teachers, spoke to students and tested out ideas during that time and now we want to test the commercial viability of a product that does help students learning, is engaging and captures the imagination.
Check out our web site at 2KLearning and, if you are able, please contribute to our Kickstarter project and help to bring play/make into the classroom for hundreds of students, so that the "ah" moment can spark life long learning and that someday the same kids experiencing our curriculum with, themselves, create their own start up.
Yes, I'd like to help back your Kickstarter Project!