This will be updated during the day today!
If you want to follow live, tune into our live channel.
Shawn Rosler Lead Systems Analyst/Instructional Designer at Geisigner Medical Center talks about "Membership has its Privileges"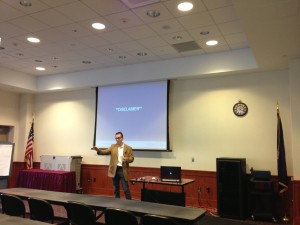 Shawn encouraged us to share our ideas and products with each other even if its incomplete and how his personal journey lead him to some great epiphanies. He says "There's pleny of work to go around…and everyone can learn form you. Why keep it all to yourself? Sharing is not losing. Sharing is learning." Inspiring presentation! Here is the link to Shawn's post about the conference.
Shawn also brought his little one to the event.
Next, Jay Kellet of TestTrack LMS talked about disruptive technology and a fascinating product called GoKart.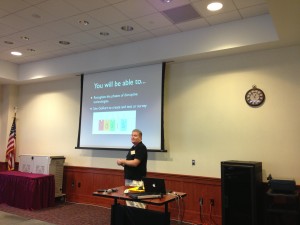 Jay talked about what were Disruptors doing differently? Jay provided several insights for the book The Innovator's Dilemma:
Ignore the key metric of the industry

Lab behind in almost every way

Stay lean and risk-tolerant

Focus on the one are in which they outperform the market leader

Broad search for a segment of the market that values their strength above the Key Metric

As new technology improves, expand foothold
GoKart
An experiment in self-disruption

While options for delivering training online has exploded, testing is still difficult and time consuming

No user management or Registration Tools

No content development tools

Limited reporting

Almost no configurable Options

No SCORM, AICC or xAPI support

Ridiculously easy to create test (or survey) ,deploy it and generate a report.
Next, Rachel Troychock, Manager of Collaborative and Social Learning at NKBA
Currently in pilot mode, Rachel talked about an instructor site issued to layout plans for courses, will eventually have all instructors use the site. Prepared for the pilot by doing live demos to educate the team, also by using the technology for live meetings and posted tips about the product they were using.
When instructor did not participate, students did not participate. Also found that the more people in a site the more participation you get. Can' wait for the first session to start the dialogue–start about a week before the session to get people involved.
Mark Burke of ThinkID8 talked about the need to help our learners think and look at content differently. When we think we make distinctions, we think systemically (whole and part), Relationships and discussion of Perspective.
When are learners thinking about the content until it starts to build knowledge.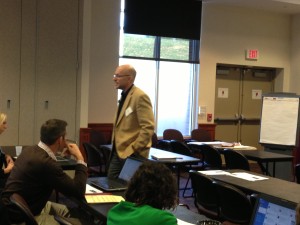 From Performance Development Group (PDG) Doug Gnutti and Alan Kumor presented about driving business results through learning.
PDG talked about different levels of training and showed some really impressive examples of the different types of projects they've created.
Next, Ricky DeVinish and David King from Proficient Learning talked about being creative in the corporate world. They gave a few ideas like "The Amazing Competitive Race" and "Clinical Idol" and "Immnizer" which is a little like Survivor.
Ricky and David talked about garbing a hold of creativity and how you can take training to be "not" this. Meaning not a lecture or a presentation but more interactive. They indicated that business may be 9-5 but creativity is not.
Marlin Plymette, Senior Instructional Designer of IBM Global Business Services spoke about the IBM Innov8 platform.
David Weatherbee from The Phoenix Group talks about delivering instruction beyond the walls of a Learning Management System (LMS).
David talked about the pull between measuring learning and access.
Bryan Hart, Curriculum Manager of Cloud Partners, Success Factors, an SAP Company, Cloud Talent Success.
Bryan talked about creating a flexible solution that is easy to maintain for product management and how the playbook helps the sales force.
All in all, a great first day of the Corporate Advisory Council (CAC) meeting, students learned so much, other CAC members learned what was happening in the industry and everyone is looking forward to the student presentations tomorrow.