Books by Karl M. Kapp
Details about Selected Books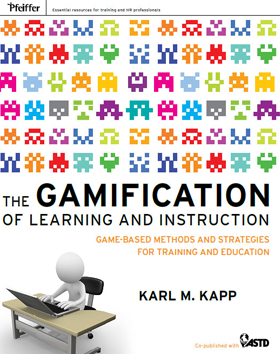 The Gamification of Learning and Instruction
Learning professionals are finding success applying game-based sensibilities to the development of instruction. This is the first book to show how to design online instruction that leverages the best elements of online games to increase learning, retention, and application. It explains how to match different game strategies to types of learning content for the right learning outcome and discusses how gamification techniques can be used in a variety of settings to improve learning, retention and application of knowledge. Supported by peer-reviewed studies and examples from corporations who have adopted game-based learning successfully, the book illustrates how combining instructional design thinking with game concepts can create engaged and interactive learning experiences across a variety of media, from online to face-to-face.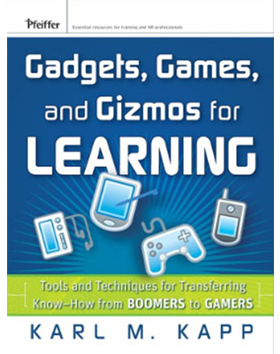 Gadgets, Games, and Gizmos for Learning
Gadgets, Games, and Gizmos is an innovative book that provides practical and original solutions to the impending boomer/gamer knowledge and skills transfer gap. The book outlines how gamer values such as the use of cheat codes, the love of gadgets, the need to play games, and the desire to be constantly connected can be used as methods for moving information from the heads of the boomers to the fingertips and gadgets of the gamers. As organizations begin to think strategically about how to attract, retain, and train new talent, this book, written by Karl Kapp, named one of 2007's Top 20 Most Influential Training Professionals by TrainingIndustry, Inc., will be an invaluable resource. You can view the online glossary for this book here.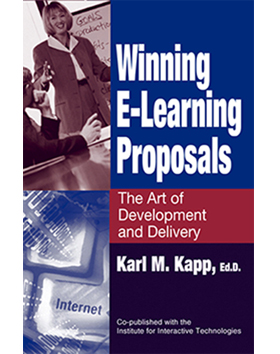 Winning E-Learning Proposals
This is the first book to present the entire process for securing e-learning business successfully. It provides practical tips and techniques for conceptualizing winning ideas, writing winning proposals, and staging winning presentations. The book covers e-learning standards, certifications, budget concerns, ROI, legal considerations, project managment and it includes checklists, templates, and actual examples from successful e-learning proposals and real cases. It delineates the ten steps in the E-Learning Business Acquisition Process and illustrates how to make significant profits in the competitive e-learning industry.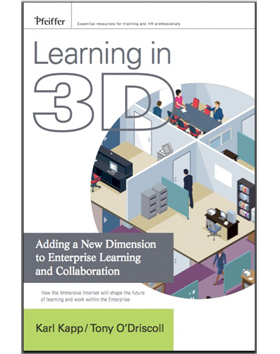 Learning in 3D
This book offers an ideal resource for those responsible for teaching the next generation of learning on the Internet. It describes how learning needs to be adapted to 3D environments and includes the tools learning and development professionals will need in order to advance 3D learning within their organizations. The author also describes how the merger of learning and work will shape future 3D environments. As 3D worlds allow workers to create and collaborate, soon those virtual creations can have serious impact on physical production of goods.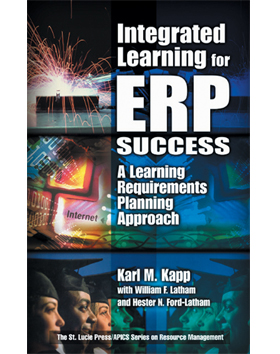 Integrated Learning for ERP Success
The results are in. The evidence has been analyzed. Research shows that the lack of enterprise-wide training is the biggest reason for ERP implementation failures. It is the single most important precursor to achieving success.
Integrated Learning for ERP Success is the first resource to offer a specifically defined, comprehensive method for planning, delivering, and evaluating ERP training efforts. It even includes formulas for determining training return on investment. The Learning Requirements Planning (LRP) process presented involves a six-step enterprise-level instructional design model that when implemented correctly assures success.
If you would rather have a root canal than oversee an ERP implementation, you are not alone. But like avoiding a root canal, avoiding ERP implementation only causes more pain. This book eases the implementation pain. It shows you how a formal plan for learning will increase the productivity of the ERP implementation team, shorten overall implementation time, and substantially decrease implementation costs. It also provides a discussion on how an ERP implementation can be used as a catalyst for lifelong organizational learning.
Implementing an ERP system can cost three to ten times the actual software purchase price. You can't afford to waste money or time in the areas of ERP education. Integrated Learning for ERP Success shows you how to create learning-focused ERP implementations that provide substantial savings and the competitive advantage.