The other day I had a chance to catch up with Brandon Carson who contributes to our industry in so many ways. He has been a speaker at Elliot Masie's Learning conference (here is a great video of Brandon talking to Elliot). Brandon is the Director of Learning at the Home Depot and he has recently authored the compelling book "Learning in the Age of Immediacy: 5 Factors for How We Connect, Communicate, and Get Work Done" from ATD Press. You can read an article he just wrote for ATD called With Transformation Comes Disruption.
Here is some of our exchange.

Kapp: You've just written a book titled "Learning in the Age of Immediacy" what is the general arc of the book?
Carson: In the book I discuss five "edge technologies" that are having a profound impact on the workplace (both in the short-term and long-term) and by proxy affect how Learning organizations should approach training and performance improvement moving forward. The edge technologies I discuss are: workplace automation, the cloud, mobile, big data and learning analytics, and the Internet of Everything.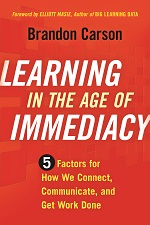 They shape what some refer to as the digital transformation that's revolutionizing every aspect of business, work processes, and the products and services that are being created and transformed. The basic thesis of the book implores all of us in Learning to take into account how these technologies affect the modern worker and their ability to optimally perform. It's no longer good enough to continue with the status quo, it's time to realize that all workers at every level are now knowledge workers, and there's no longer any type of work that's not affected by digital technologies. This calls for a wholesale reconfiguration of learning strategies and also a rethinking of capabilities and skillsets across our learning teams. We truly are in a transformative period when it comes to the future of work and workplace performance.
Kapp: In the book, you discuss five different "edge technologies" that are impacting learners and organizations supporting employees. Which of the five technologies is the most critical to the future of learning and development?
Carson: Yes, these technologies are individually evolving work practices, and many of them combined are changing so much of what we do. In the short-term the cloud and mobile technologies are having the biggest impact. Over the longer term, automation in the workplace has the potential to profoundly impact the very nature of work itself. Right now, we are in the biggest migration in the history of the IT industry brought on by cloud technologies. Almost every aspect of the IT business is being transformed. I discuss in the book how this evolution, as rapid as it has been, is still in the formative stages. However, it's a radical change in how we conduct business. No longer does anyone wait to learn something — people want information on demand, wherever they are to help them do their job. The cloud is what's fueling the expectation of real time information. Combine that with the rapid rise of mobile technologies and you can see how work has transformed in just a few short years. Mobile has quickly integrated itself into almost every work practice.
Almost all workers leverage mobile at some point in their day to help them get their work done. Even if the company doesn't support mobile devices, their workers are already mobile. Many modern workplaces are embracing mobile and transitioning their content strategies to support it. We are in a state of flux where technology is outpacing the business's ability to support it quick enough. In just a few short years the desktop computer itself has become obsolete because of mobile technology. Learning organizations must start thinking about how to support the mobile workforce with learning solutions that provide information at the moment of need across multiple devices. We are far from a single-device workforce now. How do you provide blended learning solutions across multiple screens so workers can continue their experiences as they traverse devices? How do you provide the most relevant information at the time of need? It's a wholesale rethinking of content strategy that's needed.
I discuss how to get started in the book. There are also contributions from experts in the field that offer practical advice. In fact, Tom King provides a primer on mobile learning strategies in the book that's a great "go-to" for anyone getting started with mobile learning. He worked on the AICC and SCORM standards for learning, created one of the first learning management systems, and is an expert in moving to mobile. His advice alone is worth the price of admission… 😉
If you are interested in the book (and you should be), you can find it here
Kapp: You've had extensive experience leading corporate global learning programs and teams in environments as varied as start-ups, tech companies, and retail. What are the similarities across those vastly different types of organizations in the the area of learning?
Carson: At the end of the day, the key is focusing on worker performance. When I started out (before there was a dotcom!) most traditional corporate learning functions were the domain of large companies. It was usually when the company exceeded sales of ~$100 million that they thought about creating a formal learning organization. As we've moved into what I call the Age of Immediacy, it's become clear that continuous learning is required for workers to be able to perform to the needs of the business. One constant I find among companies of any size is the need to serve up information to help both the worker and the customers they serve at any moment. I always say that a learning function should not have its own KPIs — always align to the business KPIs. Those are your measures of success. How do you help move the needle in the direction the business needs?
Many CLOs are now finding themselves in the position of being required to show evidence of worker capability — this is the result of the intersection of data, technology, and people. We now have the ability to combine disparate sources of data to show evidence of actual performance. It should be the strategy of every learning leader to present the data that shows worker capability. I would predict that almost every learning organization will have a learning analytics position in the near future to help gather, analyze, and interpret performance data.
Kapp: With your experience within the field, what has been the biggest surprise or biggest disappointment?
Carson: The biggest surprise for me has been the rapid ascendance of the learning organization itself as an extremely valued line of business. Just over the last few years, you've seen almost a wholesale change in how executives view the learning business. Ask almost any CEO what their imperative is today and they'll more than likely respond along the lines of "knowledgeable workforce" or "unique capabilities of the business". Both of these are reliant on the people that make up the company. And learning organizations play a fundamentally pivotal role in ensuring companies can attract, develop, and retain the people that provide that competitive advantage. On the flip side, however, is the difficulty some of us in learning have with being able to respond quickly enough to the ever-changing needs of the business. We must be able to move more nimbly, be more embedded into the practice of the business, and be willing to evolve what we do and question our strategies so that we can get in front of the performance challenges the modern worker faces. We need to be disruptive, be willing to ask ourselves the hard questions, and get up out of our seats and get our hands dirty figuring out what works for today's learners.
Kapp: What advice do you have for current instructional technology students who will be entering into the industry shortly?
Carson: The corporate learning business will always be about people. The human element will always be the key driver to success. Having a technological mindset is important, but humans learn best from each other, so there will never not be a need for us to relate to each other on a personal level. There will aways be a need for human-human interaction in learning. The key for students coming into the business today is to gain insight into the complexities of the revolution going on in work practices, be knowledgeable about where to infuse technology in the learning journey, be able to communicate effectively, understand empathy and compassion, and really focus on understanding human behavior. We are about to undergo a complete transformation in the workplace — new technologies are beginning to automate not just the mundane tasks, but many of the tasks we once reserved for highly experienced and educated workers. Many new learning leaders will be required to focus on complex human skills and more capabilities around leadership, critical thinking, design, and decision-making. Their focus will be on the skills that are uniquely human as well as training machines how to take on the tasks that were once just the domain of humans. Future learning leaders will be training both humans and machines! Isn't it a wonderful time to be in this business?