So now that I have added to my LinkeIn Profile that I am a co-founder of the company 2KLearning a number of people have asked some important questions about the company and about the Kickstarter Campaign so I wanted to take some time to address some of those questions.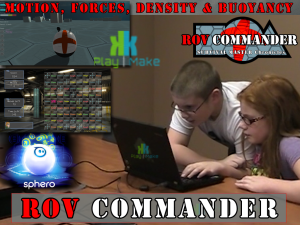 What does 2KLearning Do?
We create standards-based instructional curriculum for middle school teachers to provide their students with an engaging and unique Play/Make learning environment. We craft instructional experiences that are hands-on and video-game based with a focus on Science, Technology, Engineering and Math (STEM). With our primary focus on Engineering. The Video-game aspect allows the learning to take place outside the four walls of the classroom while the hands-on experiences immerses students in the learning process. We provide an a method of teaching to standards that gets away from the testing paradigm and focuses on the hands-on experience that motivates individuals to gravitate toward a STEM careers.
One differentiation of 2K Learning is that we provide unprecedented support and guidance to teachers and a fully functional curriculum that is focused on learning and not simply on technology. Plenty of educational games have failed because they are disconnected from actual curriculum and standards and provide no teacher support. 2K Learning is focused on supporting teachers by providing professional development materials, teacher guides and step-by-step instructions for all of our make/play products.
What Problem are you Addressing?
We are trying to address two problems. One is that while the standards created for students could be effective for life long learning, the implementation of the teaching toward those standards typically ends up with memorization and testing. The 2KLearning curriculum moves away from testing and memorization toward understanding and problem-solving. The skills learned in the 2Klearning curriculum promotes problem-solving through providing structured problems for students to solve in a meaningful context. The equations, formulas and solutions applied by the learners are used the those learners to answer questions that are directly confronting them.
Second, we are trying to address the lack of understanding in general about the scientific method and approaches to problem solving. The 2KLearning curriculum grounds the student to sound scientific approaches to understanding our world. There are far too many instances of members of society who disbelieve, don't understand or outright deny science. We see this in areas like Global Warming, Ant-Vaccinations and other society level issues. The goal of the 2KLearning curriculum is to provide students with a first-hand, hands-on experience of performing science at a level that is easy to understand but can be generalized to many problems that need to be addressed by the scientific method practically applied through engineering. We want students to become excited about solving problems using science and engineering.
How Did You Come Up With Your Product?
The original idea was created when a group of educators got together at a conference and brainstormed about how to get more students intelligently engaged with hands-on learning. We talked with teachers, talked with students and decided on a plan to approach the teaching of STEM using a new approach.
Our first idea was to place all the learning into a video game but the team soon realized that hands-on instruction was a critical missing piece. The concept was modified and an idea was born. At that time, the team decided to pursue funding from the National Science Foundation. The research and development of the SMTE project took over six years.
Based on those results, the founders of 2K Learning—Jim Kiggens and Karl Kapp decided to take the research results, lessons learned and pedagogical approach validated by the NSF work and launch an educational learning company focused on teacher friendly curriculum and tools that are standards-based, instructionally-sound and engaging for the students. The NSF research results strongly indicated that separately the Play or Make modes equally address learning standards but when the modes are combined the impact upon persistence and transfer of the skills and practices is exponential. The time had come to widely disseminate the effective approach through commercialization.
Who is Your Customer?Who is Your End User?
Our primary customers are school districts. We are going to focus on California and Texas because they have the biggest markets and Pennsylvania because one of the founders is from PA (trying to be practical with a start-up budget) but we are also speaking with some online high schools and number of individual teachers around the country. Our end users are student in middle school.
Can I see a Demo?
Absolutely, here is a page that links directly to a Demo. Check it out! Remember, the target audience is middle school students.
This is Great! Can I Get Involved?
Yes, you can and thanks for asking!!! Go to our Kickstarter Campaign and DONATE! TIME IS RUNNING OUT, DONATE TODAY!