This summer, one of my duties was serving as an external evaluator for a National Science Foundation grant (NSF) where the grant team of community college professors created a workshop to teach teachers how to create instructional games and then teamed the teachers with students from the community college to actually create the games, it was a fantastic process and I enjoy evaluating grants that are so well run. This is the second year of the workshop.
It is part of the process of creating a game design curriculum at LCCC.
At the game development workshop, the hosts of the grant Mary Rasley and Steve Weitz brought in Stone
Librande. For those of you who do not Stone, he spent time as the creative director at EA/Maxis and a frequent speaker and educator of video game design. He is a major figure in the field of game design, known for his clear analysis and insights into the process. You can read part of a bio here.
Stone has had an influence on my writing and thinking with his work concerning the one-page design document which I mention in my gamification fieldbook. It is a brilliant idea.
Here is some information about the one-page design document from a game design perspective and, although, Stone does work with entertainment focused games, his insights apply to any types of games–including instructional.
Here he talks about the concept of one page design.

Here is a SlideShare version of information about the one-page design concept.

Here are some pictures of Stone hanging out with the group. He did a great job helping the teachers to understand the basics of game design and how to apply it to their own subject matter.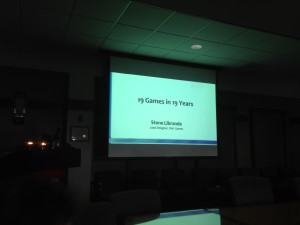 Stone talking about game design.[/caption]