Last week I had a chance to visit Lynda.com and work as an author creating a course for Lynda.com. It was a great adventure and I had a lot of fun. So here is the story of my five days at Lynda.com.
Before the Trip
The adventure started even before traveling to Carpinteria, CA for filming. I was at a conference last year and met Aaron Quigley from Lynda.com, he saw my presentation and asked me if I'd be interested in authoring a course. (Lynda calls all the people creating courses authors). So I agreed and we set up a schedule and I have spent a good part of the summer creating scripts for the recording of the course. The scripts are not large (one or two pages) but it is hard to provide critical information in only a few pages so a lot of work condensing material into a few pages. I sent my scripts ahead, they seemed ok and so we scheduled a trip to CA.
Arriving
Carpinteria, CA is a beautiful town along the pacific coast. Driving from LAX airport along 101, the view of the ocean is spectacular.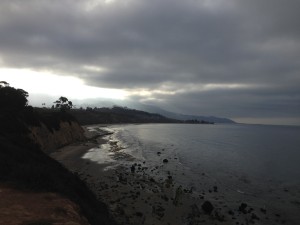 I settled into my hotel room after checking out the beach and got myself together and ready for the next day. I was a little nervous about the process but excited about the recording and the opportunity to provide information and content to literally thousands of people through the course.
Day One
I arrived a Lynda.com headquarters tucked into a little light industrial park. Very nice buildings and a very "California-vibe." I met Corey in the lobby, she is a Content Producer for Lynda and was responsible for making sure all my content was the right tone and approach and responsible for helping me through the shoot and making sure that all the various moving pieces come together in the final course (a big job).
Corey had me bring me several changes of clothes so we could see which outfit would look best on camera. I changed several times (all different shirts, purple, blue, more blue and black.) We decided that the blue shirt with the gray jacket would be best for the recording session…a combination I would wear most of the week.
Then I met the rest of the crew, Zach who helped with the teleprompter and camera angels and shooting and Ben who made sure I looked good… he decided on set development, oversaw the recording and was responsible for creating the A roll and the B roll to make sure the finished product looks great. (after all the shots, takes and re-takes, all the digital recordings go to editors who put it all together in post production.)
We spend most of the day doing last minute set up and wardrobe. The set was a bookshelf with some games in the back and some game pieces scattered around. It is amazing when you see a set and how rough it looks when you take in the entire set but when you then see it through the perspective of the camera, it looks wonderful.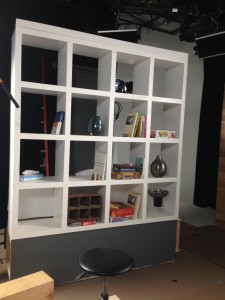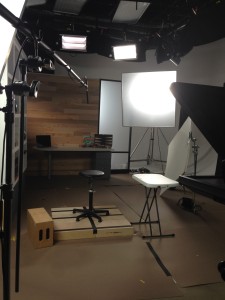 We then did a little bit of shooting the first day and I fast became friends with the teleprompter.
We also had to add "anti-shine" make up to my face and head. Corey got stuck with that responsibility. She did a great job but did bop me on the nose a few times.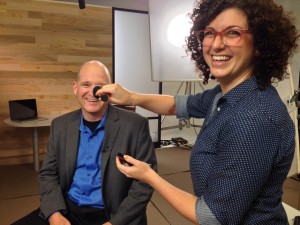 We shot the rest of the day from lunch forward and then called it a wrap for the day.
Day Two
The second day we spent all day recording and my voice started to give out a little bit but the team was ready. They had "Throat Coat" tea and added honey and it worked like a charm from keeping my throat from getting horse. It is much more intense presenting to camera than to a classroom, there are few breaks and you need to keep your energy up to present dynamically, their is no catching your breath while the students work on a project or task. You are performing the entire time.
The team made changes as well, they decided that on the second day of the shoot they wanted to work from a standing desk instead of sitting down so they made a standing desk for the rest of the shoot and added a create picnic table cloth over it.
We recorded something like 29 scripts by the second day, that's a lot of takes, recordings and speaking.
Day Three
More recording, at this point wasn't sure my voice was going to make it but I knew all I had to do was a few more recordings and I'd be good until Friday. On Friday we were going to do a classroom scene, filmed before a live class. Also, on day three I caught up with my friend Koreen Pagano. It was great catch up with Koreen and I went out to dinner with her and her husband at a lovely restaurant the following evening. We posed for a few pictures in the Pixel Cafe. It was the cafeteria. The wall had a giant pixelated logo for Lynda.com, it was very cool.
Day Four
One this day, we did not shoot any of me speaking, my voice got a rest. Instead we filmed a lot of B roll for the course. The B roll mostly consisted of filming board games. Never have a I seen people make a board game look so epic as Ben, Zach and Corey. Awesome stuff with great camera riggings to pan the games.
At Lynda, I met all kinds of wonderful people and animals. I met some one from Clarks Summit, PA–Andrew. Andrew kept telling me to dress like I was in California and stop dressing like someone from the East Coast. So on this day, since we were shooting games and rehearsing the classroom scene, I decided to wear shorts.
Also, Lucy, the set dog, came to visit for a little while, she brought a smile to the already cheery set.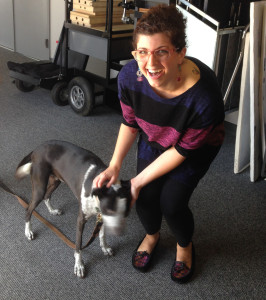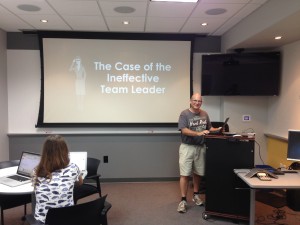 In the classroom we got help from Kristina of the IT department to make sure my computer would work and it worked wonderfully, until….
On this day, we also did some recording of screen captures and some software in the recording booths at Lynda.com. We had booth five. You get your own sound proof booth and a place to put all your stuff with the same number.
Day Five
The final day, we shot in the classroom.
We wrapped in the middle of the afternoon and I took time to go around town and stop at a local brewery where the train came by every so often. It shook the entire building but was great. I then walked to the beach and reflected on a wonderful week.
Thanks to the entire Lynda.com crew and every one I met. Wonderful people and a wonderful experience. Can't wait for the course to be made available, it will be EPIC.