Well the big game is over. LSU defeated (some would say humbled Ohio State) in a 38-24 victory. You can read about the game at Sports Illustrated's Web Site. But the controversy is not over.
In fact, an informant told me that LSU may have had an unfair advantage. One of my blog readers through the back channel of e-mail (we'll call him Steve B) sent me this provocative article about how LSU trains it's quarterbacks for victory.
The scandle is not as big as the Roger Clemens story but close.
The article titled LSU quarterbacks use video game to prepare for BCS national championship game reveals the real reason for the win.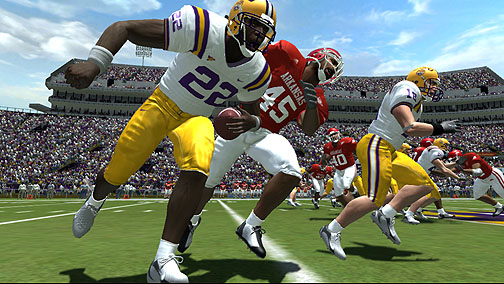 An image from the video game version of LSU.
Here is some of the information from the article, you can judge for yourself about the impact of a mere "video game" on a national championship victory:
LSU offensive coordinator Gary Crowton has used a custom-made video game to help his quarterbacks learn to read defenses….LSU and Tennessee were the first schools to use it this season…"The video game is an excellent resource we have," Ryan Perrilloux said. "Whenever we hit a play, that play would automatically match up with the defense that we would see or blitz we would see. "If you make the wrong decision it's an automatic interception or it's an automatic incompletion."

Crowton is able to customize each quarterback's video game playbook.

"You can make it faster and harder for my experienced guys; more experienced people running the offense and more experienced guys who know how to play the games," Crowton said.

So when Matt Flynn, LSU's fifth-year senior starter, sits down to play, he's got an extensive selection of plays from which to choose, compared with Perrilloux, the No. 2 quarterback whom Crowton usually limits to about 10 plays per game.

When Flynn plays, the game forces him to make decisions faster than say, third-stringer Andrew Hatch, who's in his first season and not as adept at running the offense.

"It definitely helps you make the right reads and get to the right spot," Flynn said.

The game doesn't take the place of practice or film study, but it's probably a little more fun.
So there you have it, video games can be used as effective training tools, they can even contribute to winning a national championship…yet the use of "games" for learning is still shunned in many academic and corporate settings…hey if its good enough to win a national championship then its good enough to train…anyone.
The game is a modified version of Madden 2008 created by a company called XOS Technologies.
Thanks to my confidential informant and blog reader Steve B. Keep up the good work!
__
Recommended Games and Gadgets
Recommended Books
Content Guide